I know, rhetorical question. Ever since I found out all of the refinance paperwork is done, and with a lower interest rate then quoted, I have had a terrible time. Nothing earth shattering, just highly annoying and a pain in the but to fix. First our router decided that it didn't want to work - 1 DAY after the warranty ended! Then I started a couple of new sweaters for the kiddos and ... wait I haven't told you about the anniversary presents they got me did I?
Well they got my "subtle" hints (or at least one of them) and got me the
Barbie & Me
book by Nicky Epstein.
I've already started one of the projects - Afternoon at the Opera. Princess wants hers purple and Bossy wants hers "green and rainbow". Here's a pic of the pattern and the yarns. Yes the yarn Bossy chose is the same yarn as the capelet I made. I hope I have enough of it left.

OK now back to the whining
The purple yarn you see? That's Benrnat's Softee yarn - a yarn I've used on many other projects (since it's both cheap and soft). Well that particular ball was completely screwed up! After getting about 5" of the back done I ran into the knot to end all knots. No lie - it took me 3 hours to get it out. Why so long? The only time I saw a worse not is when princess got into my stash and "knitted" when she was about 3. Why not just cut the yarn (like my DH suggested)?
OK whining done, I feel much better now! Now for some FO's. I've gotten a hold of some old Barbie patterns. Actually they are more like notes than patterns so I've been retyping them as I go along. So far I've finished 3 outfits from the set - the rest being on hold for now. Here they are (yes I am having fun playing with Photoshop)

and here's one of my flowers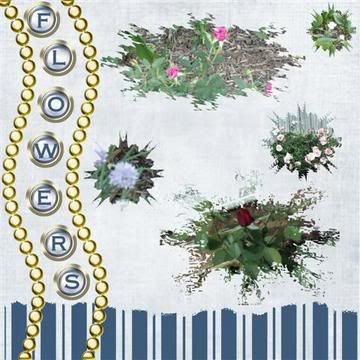 Posted by DustBunniesCanWait at
10:46 AM
0 friends have spoken
0 Comments:
Links to this post: