I know, I know, it's been months and months since I posted. I won't bore you with the details ... let's just say I've had a ton of stuff going on. My life has settled back down to almost manageable now (YEAH!) so I'll be able to get back into the swing of things soon!

Am I good or what?
Yeah, I know. This blog is supposed to be about my knitting and other crafts but I just had to share this.
Picture the scene ... I was making Christmas dinner. Amoung the items I was making, I was using some shaped bread molds. One in particular was supposed to be a heart. Well, the bread rose nice and high and ... well ... ummm ... it didn't come out looking like a heart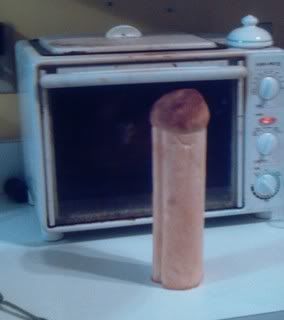 Yep, like princess said "How cute! It's wearing a little hat!" What did you think it was? My, what a dirty little mind you have!

I've succumbed
Yes, I have finally succumbed to pressure. Here is my latest project. Yarn and needles curtosey of Santa!
Don't see it? How's this one?
That my dears is my very first sock (and the start of the second one) I have to say, I'm very surprised on how comfy they are! Santa didn't get me the best of yarn ...
Red Heart Strata
but they are still nice to wear. I may even try to find some good yarn to try.
Posted by DustBunniesCanWait at
1:48 PM
4 friends have spoken
4 Comments:
You are back AND you joined the sock cult! Well done! One of my first pair of sox were lion brand magic stripes and they are still going strong after nearly 3 years. Cheap isn't necessarily cheap!
Too funny!!! I love the heart mold. LOL
Welcome back! And welcome to socks! I worked on my first pair for three months and the second pair only took about three weeks. You could probably knock out a pair in three days!!
LOL @ the bread! Those are great looking socks :)
Links to this post: