What in the world do you you do with all those ugly ties?
Well, you could make a skirt out of them, but I for one wouldn't want one. I imagine it would be way to hard to clean.
So what did I do? I made a purse!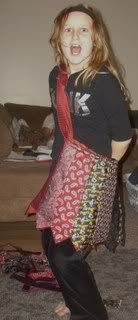 The kind folks on freecycle helped out (a lot). But you know, even the butt-ugly ones look great on the purse!
Posted by DustBunniesCanWait at
6:33 PM
1 friends have spoken
1 Comments:
What a great idea -- thanks for sharing.
Links to this post: